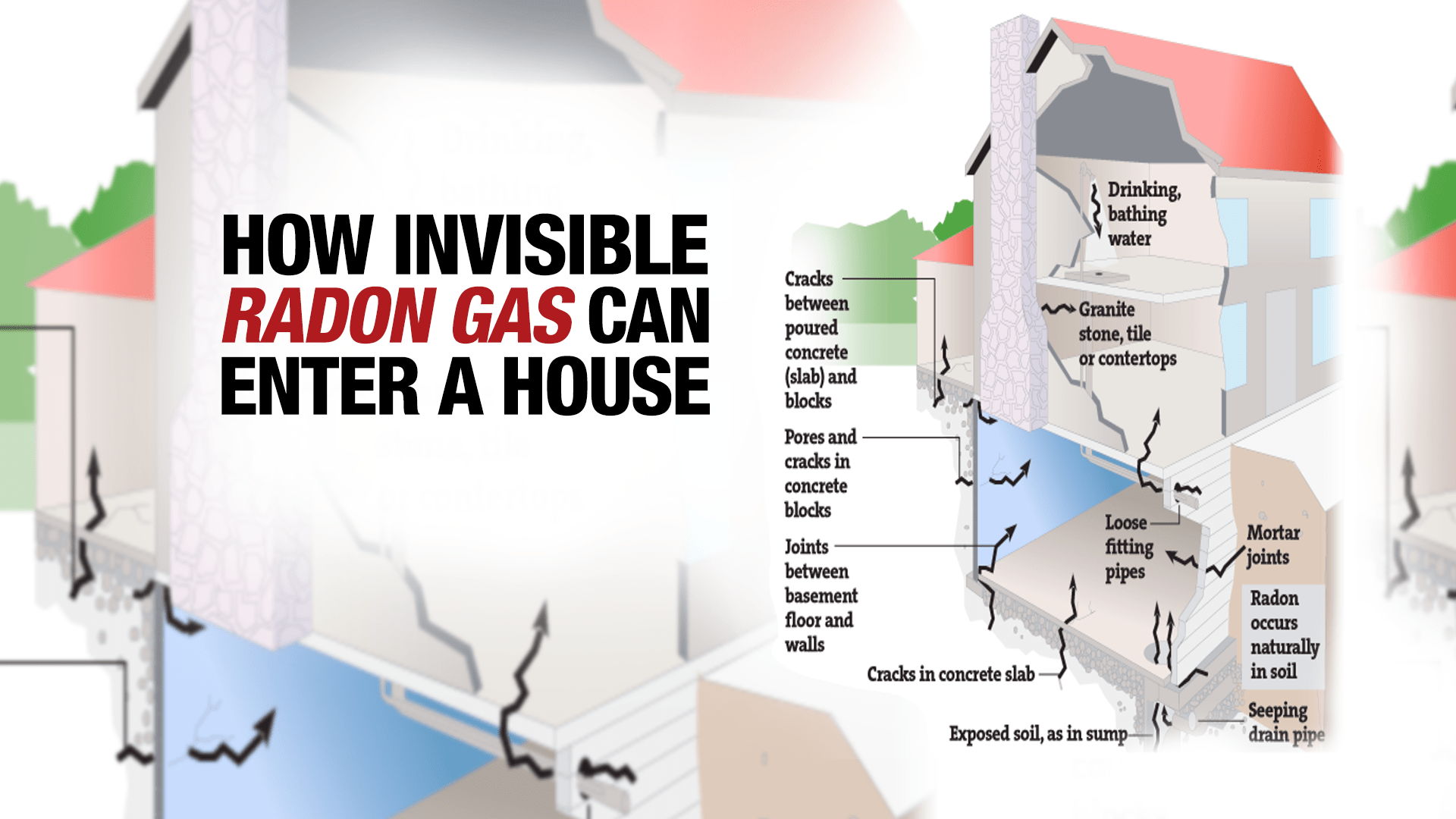 Radon & Your Home
Radon gas is a natural yet radioactive byproduct of uranium and radium breaking down in the soil. It's released into the atmosphere and attaches to particles in the air. It then gets inhaled and over time builds up in lungs.
Radon enters our homes from all types of foundations. Basements, slabs and crawlspaces are all at risk for potential elevated radon levels.
Radon enters your home through basement or foundation access points or cracks and it is entirely odorless, tasteless and colorless. Human sensory perception simply does not allow the detection of radioactive radon gas. Couple that with the fact that few of us open our windows anymore, and homes are built air-tight for energy efficiency so once radon enters our homes, it stays.
Radon & Your Health
Radon is a radioactive, naturally-occurring gas in the environment. Upon entering homes, it attaches to dust and other particles in the air which when inhaled over a sustained period of time can become a threat to your health. The radioactive particles can attach to healthy lung tissue causing abnormal tissue growth and ultimately lung cancer.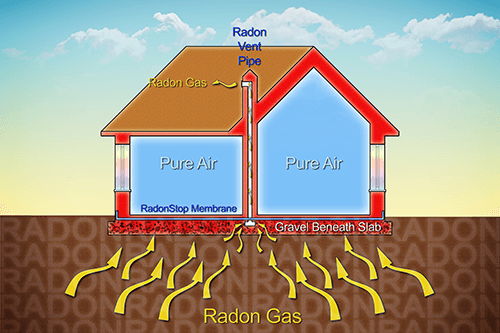 Radiation Exposure
55% of our radiation exposure is from this invisible, odorless, tasteless gas
DID YOU KNOW?
Radon is the #1 Cause of Lung Cancer in the U.S. Among Non-Smokers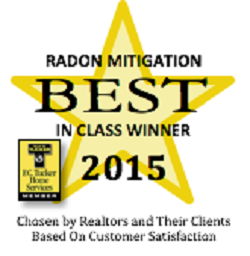 Awards & Recognition
We are a proud recipient of the F.C. Tucker Home Services "Best In Class" Award for Radon Mitigation from 2014 to 2019.
F.C. Tucker Home Services knows what a great relief it is to find quality, trustworthy companies. They've brought together over 200 of the area's leading service and product providers to enhance and maintain your home before, during and after the move. Each year they produce a "Top Twelve" provider list based on client feedback and overall customer satisfaction. Pure Air Environmental was named a prestigious "Top Twelve" honoree for 2015. We take great pride and satisfaction with the designation and look forward to bringing our award winning service to your family and home.
Don't Wait Until It's Too Late, Get Your Home Tested Today
The only way to detect harmful, radioactive Radon gas is to conduct air testing in your home. Testing is inexpensive and easy. Pure Air Environmental provides education and protection for residents in every state because every breath matters.
The EPA Recommends
Test your home every 2 years as Radon levels can fluctuate based on constantly changing environmental factors and subsoil decomposition rates.


You should also test your home every 2 years even if you have a Radon mitigation system installed in your home to ensure the system is still operating effectively.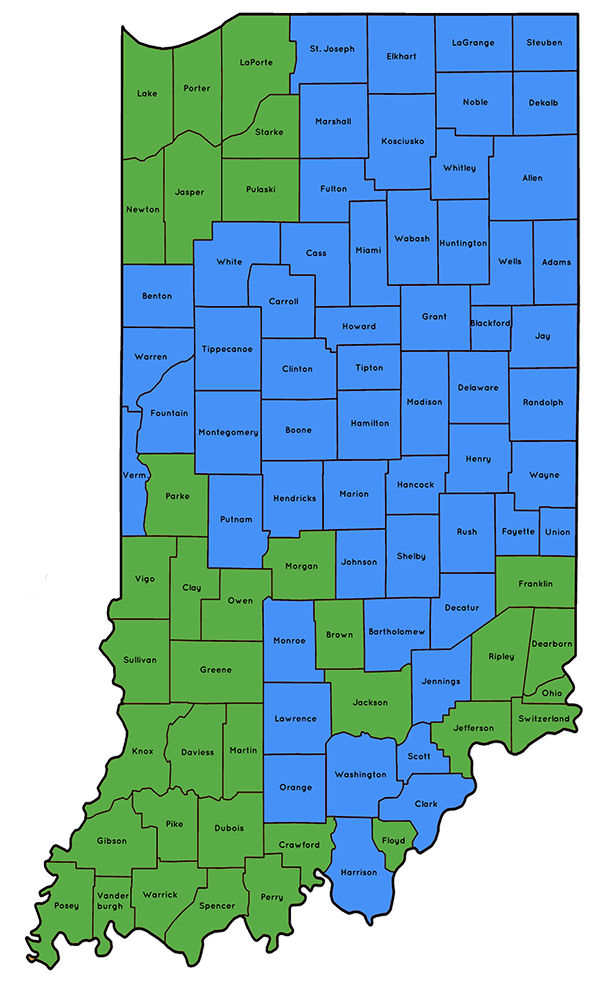 Indiana is at High Risk for Radon
Central Indiana is one of the worst regions in the country for radon exposure due to our soil composition.
The counties in BLUE on the map are at an elevated risk
Radon Levels Found In Most Homes
The Indiana State Department of Health estimates that nearly one out of three homes in Indiana has radon levels higher than 4pCi/L. These elevated radon levels can be present in any type of home — old and new, large or cozy, drafty or insulated, with or without a basement. Indiana's local geology is a major factor. Radon levels depend largely on soil composition.
In fact, the EPA classified counties across the country into three radon zones, which indicate the estimated indoor radon level. Counties in Indiana fall in the two highest zones. On this map, the areas in blue — Zone 1 — have a high potential for radon in the soil (an estimated average indoor radon level higher than 4 pCi/L), while areas in green — Zone 2 — have a moderate potential (between 2 and 4 pCi/L) for radon in the soil.
This doesn't mean that homeowners in Zone 2 should be complacent. In fact, houses with high radon levels have been found not just in all areas of Indiana but across homes in many other states. Moreover, the changes in the building and environment can affect the radon levels, so people can't say they're safe unless they conduct radon air testing at home. On top of that, the construction materials and how the home was built also affect radon levels, so your neighbor's radon levels are not a conclusive indication of yours.
As such, it is best if each homeowner checks the radon levels in their properties. The EPA itself stresses that all homes should be tested, regardless of their zones.
In other states, every property that's bought or sold is required by law to undergo radon testing. Some states including Indiana though, have no such laws for homes or buildings, so a lot of homeowners aren't aware of the high risks or the need for radon testing. The problem is, as this map shows, the soil in Indiana, in particular, has a higher potential for radon than other states, which means your home has a strong chance of elevated radon levels. However, that doesn't mean other states aren't affected as well. Just like Indiana, a myriad of states have similar types of soil that may pose a high potential for high radon levels.
Major health organizations, like the Centers for Disease Control and Prevention and the American Lung Association, stress that radon is behind thousands of preventable lung cancer deaths every year. And while the threat is greater among smokers, radon can also compromise the health of non-smokers in the state.
The good news is residential radon testing is easy and affordable in all states in America. And if you find out that your home harbors harmful radon levels, there are affordable but effective solutions. Modern radon mitigation systems can reduce the radon levels to 2 pCi/L or lower.
What Our Customers Say
"Very satisfied with this company. We purchased a home that had a high radon reading disclosed on the inspection. Pure Air came out on short notice to give an estimate that was very reasonable; the remediation system they recommended was the least invasive and least unsightly as possible. Scheduling the installation of the remediation system was easy with a live person in the office; on the day of installation the techs showed up on time and got right to work; they were done within a few hours."
"Jon and his staff are amazing to work with. They have great communication and excellent understanding of their services and products. I moved into a house that I was severely allergic to. They were able to clean and sanitize my duct work and take my allergies away. They also tested for air quality and installed a radon system. I would recommend them for any of your air quality needs."
Radon Action Month
Save 33% on Radon testing. Only $100 per home. That's $50 off our regular price! Make your request before February 1, 2022 for this very special deal!